What if your charity or for-profit organization could tap into a $130 billion dollar business? What if every major online retailer was willing to share a percentage of their profits with your organization?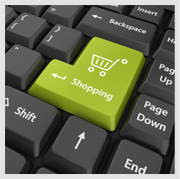 We all do it. We search from Google or Yahoo or simply type in our favorite online store such as Amazon or iTunes in our browser window. And we make an online purchase. There is a business model that has grown exponentially in the last decade and is projected to continue to become a leading method of spending by over 80% of US households. The top ten online retailers alone have over 200 million online shoppers.
And what many organizations don't know is that nearly all of today's leading online retailers are willing to share a percentage of their profits with those who "link" customers to their store. It almost sounds too good to be true.
It is as simple as 1, 2, 3.
MTI builds a custom browser bar for your organization. The browser bar (sample below) includes:

your logo
a Yahoo or Google search field
relevant data or news feeds from your organization
links back to your website
"shop online" link which consist of over 5,000 online retailers including eBay, Amazon, Wal-Mart, Target, Netflix, Best Buy, Sears, The Home Depot and other top online retailers.

Your organization invites friends and supporters to download your new custom browser bar. A simple process that takes about 30 seconds to install and works in 90% of all today's browsers. And because your constituents appreciate your organization and/or cause, they will be eagerly willing to download your browser bar and stay informed of and support your cause.

Every time your constituents, who have downloaded the browser bar, search or shop online your organization will share in the revenues, which can be quite substantial. Now doesn't that sound easy? And profitable?

Now, and for a limited time, Maestro Technologies is offering the setup and design of your organizations unique browser bar for FREE. (a $4,995.00 value.) Your browser bar will "push" relevant data to your constituents keeping your organization in the forefront of their minds while increasing traffic to your website. A custom online "mall" will be built (also free of charge) linking your friends to today's leading online retailers that are willing to share a percentage of their profits with your organization. You will be increasing awareness while generating new revenues in today's $130 billion dollar eCommerce business.
A few of our charity malls:Children International & The Voice of the Martyrs
Again, it couldn't be easier. Or more effective. More exposure for your organization. Financial support from online retailers from whom your support base is already buying. And with no upfront cost. Or risk. Want to learn more?
For a full presentation with projections for your organization or cause, please contact us.